archive
culture
You got that one wrong, Hugh Mackay. Jesus absolutely told people what to believe in.
"Jesus never told anyone what to believe in. He only spoke about how to treat each other." So said Australian author and sociologist Hugh Mackay at the Sydney Writers' Festival yesterday.
A cursory glance at any of the Gospels would tell Mr Mackay that he's got that wrong.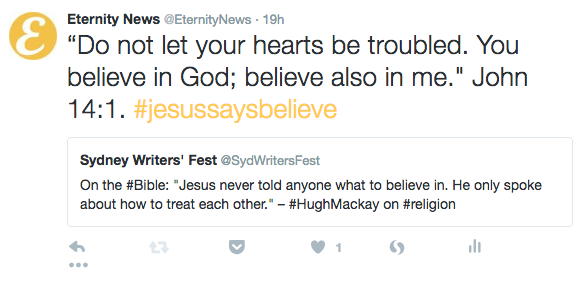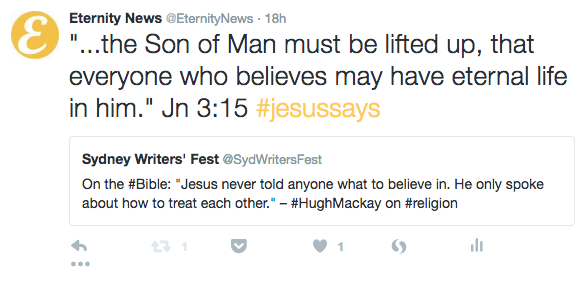 Centre For Public Christianity's John Dickson, an author and historian too, felt similarly after hearing what Mackay had said at the festival. "The truly paradigmatic statements in the Gospels nearly always urge beliefs as the basis of behaviour," argues Dickson on Facebook.
"See for yourself:
1. The opening words of Jesus in the Sermon on the Mount in Matthew's Gospel: "Blessed are the poor in spirit for theirs is the kingdom of heaven."
2. The opening words of Jesus in Mark's Gospel: "The kingdom of God is near. Repent and believe the gospel".
3. The opening manifesto of Jesus in Luke's Gospel: "The Spirit of the Lord is on me, because he has anointed me to proclaim good news to the poor. He has sent me to proclaim freedom for the prisoners … to proclaim the year of the Lord's favour."
4. Jesus' own summary of his teaching, according to John's Gospel: "The work of God is this: to believe in the one he has sent."
5. When asked, "Which is the greatest commandment?", Jesus replied, "Love the Lord your God with all your heart … and love your neighbour as yourself."
6. When summarising his sayings on love and non-retaliation, Jesus concluded, "Be merciful, just as your Father is merciful."
"I'm almost tempted to say that Jesus never taught people how to treat each other without grounding it in stuff we are meant to believe. In an odd way, I'm thankful for the reminder of this principle which Mackay's comments provoked," Dickson wrote.
Got any other Jesus quotes you'd like to share?
Email This Story
Why not send this to a friend?