When most people think of poetry they think of boring schoolbooks. Not so for Joel McKerrow, a spoken-word poet based in Melbourne. Spoken word poetry is the kind of poetry that refuses to sit on the page; it is designed to be performed.
"I have the joy of breaking peoples' perceptions of what poetry is, and that's one of my favourite things to be able to do," says McKerrow.
"The first time I experienced spoken word poetry it did something in me that's really hard to describe. It's a very evocative art form. People put their heart and soul into it. It's a beautiful expression of who they are. It can silence a room and cut straight through our cognitive, rational and logical thinking."
McKerrow is a Christian and an artist ambassador for advocacy organisation TEAR Australia.
"I have a desire to use my artistry to engage with larger issues. The heartbeat of our faith is social justice and equality and seeking to help the poorest of the poor in the world. TEAR goes beyond charity, and I think we as Christians are called to more than charity."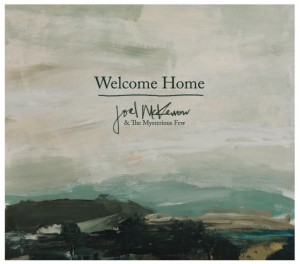 But McKerrow is adamant that he is not a "Christian artist". "We have done a disservice to the world by having a Christian music scene; a Christian artist scene. People who follow Jesus should be artists who are Christians."
To that end, McKerrow performs most of his poetry within the poetry scene.
"My hope is that my spirituality comes across in my music and in my poetry, but I think it comes across in a subversive way. My spirituality and my faith and my understanding of God and life and Christianity – they affect everything to do with my artistry, but I wouldn't want to call myself a Christian artist," says McKerrow.
McKerrow and his band The Mysterious Few launched their debut album on April 30. The album entitled Welcome Home is a bit of an experiment, fusing together spoken word poetry with music.
"The album is a call to people who have dabbled a little in creativity or who are totally creative and just don't feel like they have a place to belong. My hope is that it creates a sense of knowing that they do belong, and that their story matters," says McKerrow.
Tell us what you love about poetry and win a copy of Welcome Home. Email us here.
Extract of Lyrics to Welcome Home (title track)
To the artist
To those who have forgotten that they are so
To the child who put away their paintbrush
Ballet shoes left dusty in the back bits of attics
To the cartoon scribbler in the margins of math books
To the memory of crayons and drawings pinned up on fridges
To the childhood actors performing in lounge room, backyard, front verandah theatres
To the students whose teachers took their own failures and transposed them upon them
To the burdened shoulders
To the clipped wings
And to those who have never tried again
To the artist and to those who have forgotten they are so
We say, welcome home
Watch the film clip to Welcome Home
Email This Story
Why not send this to a friend?