Church attenders are less likely to invite someone to church than in years past, according to the most recent results of the National Church Life Survey, which provides a snapshot of church life across 20-plus denominations.
Although the decrease is slight, it is unlikely to hearten Christian ministers and pastors and presents a challenge for the future.
"I see a church that has lost confidence in itself," said Ruth Powell, Director of NCLS Research, while presenting a review of church health at a conference in Sydney.
She said the latest NCLS (2016) showed that the proportion of people involved in evangelistic activities had increased just slightly.
"What has gone down over time is the proportion of attenders who actually have invited someone to church," she said.
"The strong message is try inviting them – that is the key." Powell suggested that churches encourage attenders to invite others; they may just say yes.
The data revealed that if you have a relationship with someone, either as a friend or family member, they may be more open than expected to being invited to an event – particularly if it involves music or food.
Four in ten Australians (40 per cent) said they would go to church if invited by close friends and family, according to a community survey conducted by NCLS Research in November 2019. Some 16 per cent were not sure while 26 per cent said 'no'.
"The key is relationship. Australians report that they would be more likely to come 'if I felt that it was important to my friend or family member that I accept'. So they'll do it for you as a first step," said Powell.
In the previous 12 months, 33 per cent of Australians had gone to a church event and, for those with at least one close contact, it jumped to 73 per cent. The most common church events attended were a regular church service, Christmas and Easter.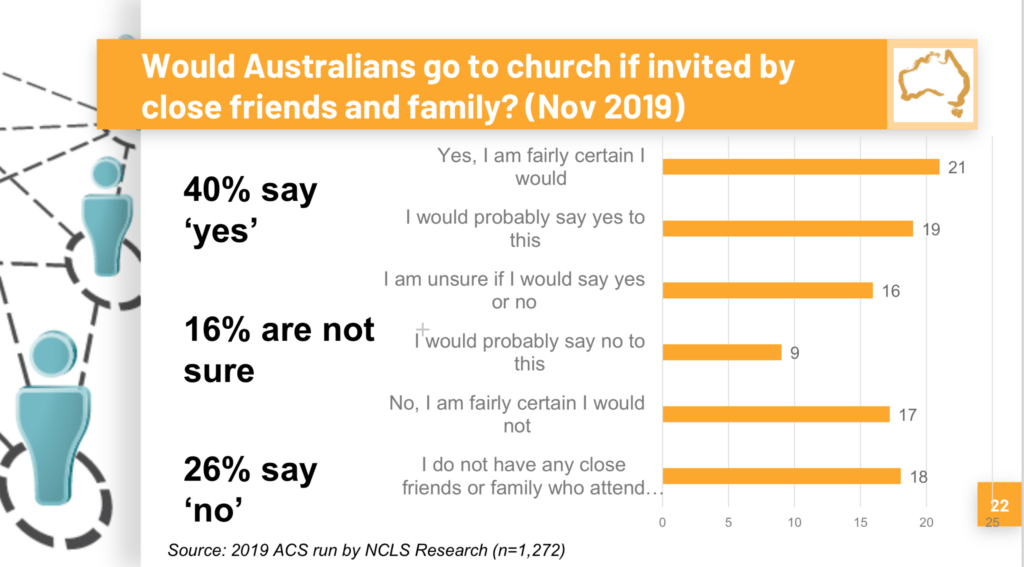 When asked about the types of events they would be more likely to attend, those who responded were most likely to say they would go to a meal or a musical event hosted by a local church, if invited by close friends or family.
Unfortunately, more than half – 51 per cent – did not have any close friends or family who attend churches.
"The research confirms that connecting with the wider community starts, as it always has, with relationships. Family, friends, food and music. This is where we can start and continue to love out neighbour," said Powell.