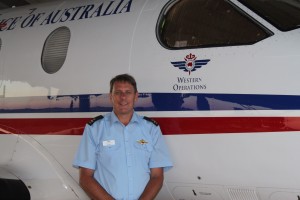 I became a Christian when I was 14. I was already convinced that God existed, and that Jesus was who he says he is. This gave me the false illusion that I was already a Christian, when in fact I was only a believer in the facts.
That changed when I attended an evening service and the minister talked about surrender: he taught that we've got to surrender our lives to God and follow him. I realised suddenly that there was a difference between believing and surrendering to God, so that night I began to follow Jesus with my life.
I learnt to fly at the aero club in Perth, and the thing I love about flying is being able to help those who can't help themselves.
I was planning on being an electrical engineer, but one day I saw a film at church which looked at mission work in Papua New Guinea. In the film there was an aeroplane which came in and delivered the mail to a remote community. I felt God saying to me that he wanted me to be the person in the air.
I'd never flown before. I'd built model aeroplanes – but that's all. So, shortly after seeing the film I did a trial instructional flight at the aero club. Afterwards I sat down to talk with God and told him: "I don't mind whether you want me to fly for a career or not. I'm going to fly anyway – it's fun! The angels have got it!"
Flying is an extension of my faith. Helping people who can't help themselves is what Jesus did. I see my role as a pilot, flying to remote communities, as being like Jesus to the people who don't have access to mainstream resources.
I worked for eighteen years with Mission Aviation Fellowship, flying planes and helping people in remote communities. For the last seven years I have worked as a pilot with the Royal Flying Doctor Service.
When I was based in Mt Isa in Queensland I flew the King Air B200. I'm currently based out of Meekatharra in Western Australia and I fly the Pilatus PC 12. We're on call for a 12 hour shift. If we're called in, we're to get to the airport as quickly – and as legally – as possible. This is difficult with a priority one call though; it's hard to keep to the speed limit when you know someone desperately needs help.
Helping people has always been the gist behind my flying career, which is why I'm not an airline pilot.
I believe that the whole thing about flying, the whole physics of flying, the freedom and joy that flying brings, can only exist in a world that has been created. It can't just happen.
And this leads me to believe that God is in control; he made this world for us to enjoy. He put in place the laws of physics that we aviators enjoy. We have to succumb to those laws of physics, and in doing so we gain the joy of flying. It's logical that we should also succumb to God's laws in life, which also bring joy. It's not a trial to succumb to God's laws for life – it really does lead to joy.
A favourite passage of mine from the Bible is Jeremiah 29:11, which says, "I alone know the plans I have for you, plans to bring you prosperity and not disaster, plans to bring about the future you hope for." Life brings many turns with it, positive and negative. I can look back at this verse and know that God is really there, and that there is good in the things that happen to me, and things will get better.
Email This Story
Why not send this to a friend?