The oldest daughter of an Armenian refugee family hiding in a church in The Netherlands has written a poem for Christmas, reflecting on her faith.
My Christmas star is still burning 
And will continue to burn 
It continues to illuminate my ways 
It continues to warm my heart 
Amazed about this light 
I worship You 
Sometimes aloud 
But sometimes also 
Silent in my heart
The poem, published in Dutch this week, reflects the hope Hayarpi Tamrazyan still holds to as her family takes refuge in a church running a continuous church service to protect them from deportation.
On Christmas Day, that church service – in Bethel Church, in The Hague, on the western coast of The Netherlands – will have been running continuously for 60 days – over 1400 hours.
Under Dutch law, police are prohibited from entering places of worship during religious services. The Tamrazyan family cannot be arrested as long as the service continues.
The church service is being run mainly be volunteer clergy who have come from all over The Netherlands to keep the service running in shifts.
The Tamrazyans – Sasun, Anousche and their three children, Hayarpi, Warduhi, and Seyran – fled their native Armenia nine years ago after Sasun's political activism earned him death threats. They sought asylum in The Netherlands, where a judge granted the family asylum but the government succeeded in having the ruling overturned. Further applications to the government for asylum were refused, and they received a deportation order. That's when the family reached out to the Protestant congregations in The Hague.
Derk Stegeman, a minister of the Protestant Church of The Hague, and spokesman for the Bethel Church initiative said that the Tamrazyan family are "in need of help".
"This family is not safe in Armenia, and the children who have grown up here are at risk of getting damaged. As a church it is our responsibility to take care of people. This is why we offer them the safety they need now," he said in a press statement earlier this month.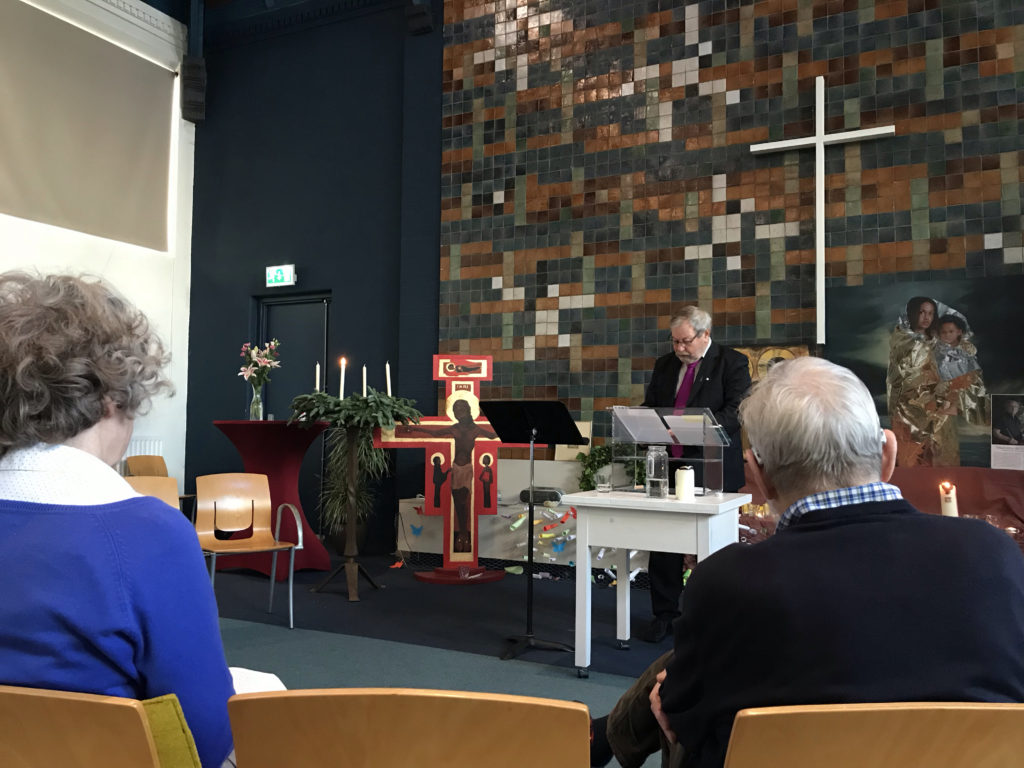 "We are not in a fight. This is not a matter of who wins or who loses. Our aim is to create time and space. We are creating time for a real dialogue with the authorities and members of parliament. And we are creating safe space for the family to stay. We are also creating a space of compassion and justice. Justice that goes beyond law enforcement and compassion … that offers space for amnesty."
Stegeman said the continuous church service would continue "for as long as we believe is necessary or useful."
Hayarpi Tamrazyan has been writing poetry on a blog since the family took refuge in Bethel Church. "I often think that the only place where I am safe is the church … It really feels like a refuge," she writes.
Here is one of her poems (translated from the Dutch) about her life, hidden in an unassuming church that has captured the world's attention:
Church asylum 
For so many weeks 
For months 
I wonder 
How this is possible   
Incredible 
breathtaking … 
So much support 
we pray for weeks now 
we sing for weeks now 
we learn for weeks now
Around-the-clock 
7 days a week 
We praise and worship God makes me 
in my heart grow 
It makes me thankful 
In a way I've never been
There is peace in the Bethel 
Light in darkness 
Hope in the eyes 
There is much love 
As a gift 
Of God's presence here
And there is safety 
In this house of God, Bethel 
We are safe 
Safe in the arms of Jesus
As The New York Times writer Patrick Kingsley wrote, "At a moment when Christianity's relevance in Europe is waning — and when xenophobia and nationalism are rising — the Bethel service has also been a reminder of the influence that religious institutions can still exert in a largely secular Western Europe. The pastors have given protection to the Tamrazyan family; the family has given them a cause to show the power of their faith."
Email This Story
Why not send this to a friend?