Australia
'Just let me read this text from Judas Iscariot'
In the weeks leading up to Easter this year, you can get texts from biblical characters who give "real-time" updates of ancient Jerusalem in the weeks before Jesus' death.
Sounds like a bit of a brain-bender, doesn't it? Exactly.
Holytext is an initiative of the Bible Society Australia that communicates the biblical events leading up to Jesus' death and resurrection in a form most of us use – SMS or Facebook message.
"We believe it's a life-transforming story that is worth sharing." – Melissa Lipsett, Bible Society Australia
From the time Jesus enters Jerusalem to celebrate Passover, key figures from Jesus' inner circle will give the inside report on events as if they were happening now – the washing of the disciples' feet, the last supper, Peter's denial of Jesus, the crucifixion and the discovery of the empty tomb.
The drama begins on Palm Sunday, 25 March, and continues to Easter Monday, 2 April. Simon Peter, Matthew, Nicodemus and Joanna (Herod's household manager) will share their perspectives. And, for the first time, Judas Iscariot will be part of Holytext, with the man who betrayed Jesus sharing his thoughts about the final week of Jesus' earthly life.
Participants can text the word "Holy" to 0429 993 477 to subscribe, or join through Facebook Messenger. They will then receive various text messages assigned to these five biblical characters, as they participated in historic events which are still foundational to the two billion followers of the Christian movement today.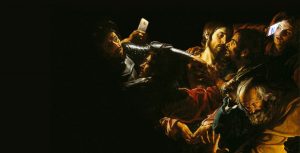 Australians have been using SMS to text Bible verses to encourage friends and family for 20 years. But Holytext – running for its second year – appears to be the first initiative that has been used to send text messages from characters in the Bible story itself.
Last year's Easter Holytext attracted more than 4000 participants and was well received. As expected, the majority of subscribers to last year's Holytext were Gen Y and Gen Xers (60 per cent). However, the initiative was also clearly a hit with tech-savvy Baby Boomers, who made up 24 per cent of participants.
Bible Society Australia promises more multimedia during this year's Holytext, with audio messages and one or two surprises. They've also shaped the SMS messages to have a more personal feel, saying that each of the characters will be messaging and talking to the subscriber (as a participant), rather than just talking to each other as they did last year.
Bible Society is also hoping this year's Holytext will widely spread the news of Jesus, with participants able to apply for a free copy of the Gospel of Mark at the end of the nine-day Holytext drama.
Bible Society Australia's chief operating officer Melissa Lipsett says that when the story of Jesus intersected with her own life, it changed everything, making her passionate about providing others with the opportunity to discover the Bible for themselves. Melissa is hopeful that using SMS and Facebook Messenger will attract a new audience, many of whom may have never heard the Easter story before.
"We believe it's a life-transforming story that is worth sharing," says Melissa about the Holytext.
While Holytext is a new format, the tradition of dramatic retelling of the Easter story has a long Christian history, with Easter plays the oldest form of drama in the Western tradition.
Easter plays remain popular in Europe, where the Oberammergau Passion Play has been performed regularly, to large crowds, on the Bavarian-Tyrolean border for more than 400 years. Some scripts for Easter plays, which feature conversations with the women who knew Jesus, have even been traced back to a 10th-century monk in St Gallen, Switzerland, called Tutilo.
Email This Story
Why not send this to a friend?