Thousands of music lovers poured into stunning parklands in Toowoomba last weekend to check out some of the world's leading Christian music acts.
Audio Adrenaline, Relient K, Sanctus Real, Lecrae, and more than 100 Australian acts performed at the massive four-day "Big Day Out" type-event known as Easterfest.
Festival Director David Schenk says he was really impressed by the calibre of the Aussie acts this year. Music historian and broadcaster Martin Fawkes agrees there were many stand out acts at this year's Easterfest. "In a sense we are spoilt for choice; so much to do, so much to see."
Easterfest might just be a "show" for the 'music lovers', but the event attracts a broader audience interested in celebrating Easter.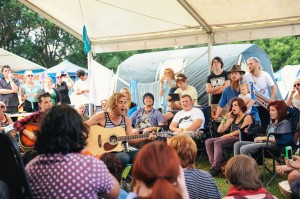 Dave Schenk – who lives in Toowoomba – highlights the festival's "sense of community" as an important ingredient to its continued success. "I really think that the sense of community is actually the biggest thing. It keeps bringing people back. The more I talk to people who come back year after year…they really just come for the experience, the whole experience, including the sense of community. It just builds up;  in the camp site, amongst the crowd, meeting each other and making new friends. It's just an incredible 'people' weekend."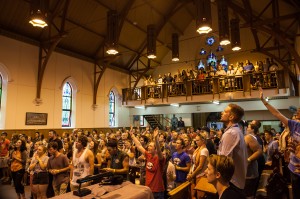 Martin Fawkes – a visitor from Victoria – observes that the key to Easterfest's success – at least to him – is the unity within the local Christian community. "It's really driven by the unity of the churches in Toowoomba. It really is the pastoral oversight coming together, providing  something for their community that actually impacts the nation at large. And so people are drawn together on Good Friday and Easter Sunday for church services. There's a church service in the park and church services at the churches. An extraordinary show of unity.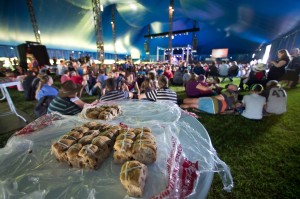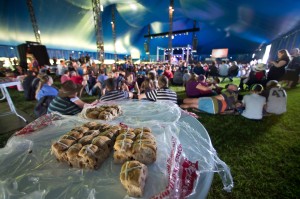 "And the big event to close the festival on Sunday night brings together more than 10 000 Christians from all over the nation as well as from around Toowoomba. The feeling at that event is just extraordinary. People put aside their differences and come together to say there are things that we believe in, in common, and we'll join hands and we will shout to our community and shout to the world."
Click here to listen to more details with Cam Want on TRAA NEWS.
Email This Story
Why not send this to a friend?