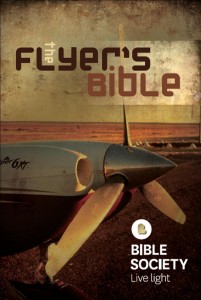 Ben Fairhurst is a pilot for Darwin Regional Airline Airnorth. He has told his story – of life as a pilot and living as a Christian – for Bible Society's upcoming new release: The Flyer's Bible: Gospel of Mark.
I think I've got one of the best jobs in the world. Flying holds such a wonder and a thrill. That has a lot to do with why I became a pilot. As a young man, when I was thinking about what job would interest me, flying attracted me. I saw my dad, who is a pilot, gain a lot of enjoyment out of his work and that rubbed off on me.
Straight out of school I went into flying training in Brisbane and started a three year university degree in aviation to get my commercial licence. I got my first job up on the Sunshine Coast flying skydivers, and then went to the Northern Territory and flew for a few different charter companies around the Top End in light aircraft. I built up my hours of experience both there and in central Australia, working towards trying to get a job with an airline, which I did in 2007, based in Brisbane.
My current job is Captain on the Embraer Brasilia, a regional twin engine aircraft that services Arnhem Land region down into north Western Australia, and sometimes up to East Timor.
Aviation is a very transient industry. During my years as a pilot I've worked for agencies which have come and gone, and in trying to expand my experience I've moved around a lot over the ten years I've been working in the industry.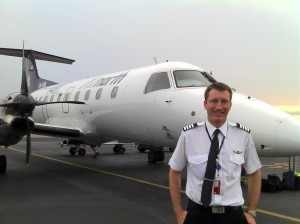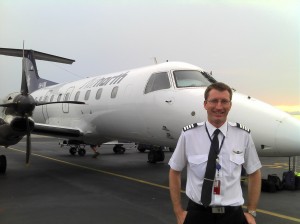 As I've discovered more of the world, I've discovered more of how God is sovereign: he is in control of all things. I was made aware of Jesus and God as a child; I grew up in a Christian home and made a personal commitment to follow Jesus when I was 16 years old. Just as there is wonder in flying, I've found that there is wonder in living life with the knowledge of God's love, and his plan and purpose for mankind.
I've seen a lot of rise and fall of various 'powers' in aviation. But there's a constant that is often unspoken that overrides all these things. In the Bible, in 1 Corinthians 2:6-7, it says, "I do proclaim a message of wisdom to those who are spiritually mature. But it is not the wisdom that belongs to this world or to the powers that rule this world — powers that are losing their power. The wisdom I proclaim is God's hidden wisdom, which he had already chosen for our glory even before the world was made." The constant that overrides the 'powers' of this world is God's wisdom, and how he holds all things in his hands, and the future glory he has chosen for those who love him.
Christianity has given me stability, both in the family I grew up in and now as a married man. I've realised that faith in Christ gives a security and strength to my own family, which is important in a job that has its challenges for family life.
God has put an inkling in every heart and mind, and I believe that's his Spirit speaking into each of us to tell us that he is there, and that he is not silent. He's given us his word the Bible, that reveals who he is and who Jesus is. The Bible tells us that Jesus is alive and living in the church today.
'The Flyer's Bible: Gospel of Mark' has been specially published for handout at the Avalon Air Show in Victoria in early March.
Email This Story
Why not send this to a friend?