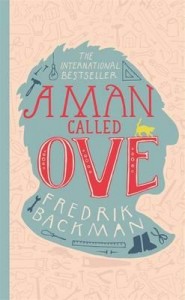 A review of A Man Called Ove by Fredrik Backman. (Hachette, 2014)
It is not a very promising premise for a novel: Ove is a grumpy old man who hates cats, people and cars driving near his townhouse. He has alienated everyone special to him — even his best friend Rune — except, that is, for his fun-loving and wise wife … who has recently died.
Ove is such an odious character that I was determined to give up on this book rapidly, when suddenly at the end of Chapter 2, I found myself crying. Unfortunately, I was waiting at a doctor's surgery at the time. I then cried while reading it on a tram, and for the entire plane trip to Sydney!
Now, while I do admit to some fragility at present, the tears were genuinely unexpected. I wasn't being manipulated, like I felt while reading The Notebook, this was simply wonderful writing from an author who shows us the truth that every difficult and hard-to-love person is made in the image of God, and has a story to tell.
Ove reminds me a lot of the grumpy old guy from the movie Up. He comes across "in that particular way of a middle-aged man who expects the worthless world outside to disappoint him". He has an outstanding ability to fix cars, mend fences, drain radiators, even build houses; but he thinks these skills are not valued in a digital world. However, it is these abilities — combined with the apparent uselessness of his neighbours — that leads him to unexpectedly connect with people again.
Perhaps the secret of this book's success … is that it is about ordinary people learning how to live together in community.
The facilitator of his rediscovery of purpose and relationship is Parvaneh, a diminutive Iranian married to "the Lanky One" who have just moved into Ove's townhouse complex. She sees his value and his neediness, and cleverly weaves his life with her family, requesting tools and driving lessons. She also engineers his intervention on behalf of his arch-enemy Rune, who is being forced into a nursing home by the local council.
Fredrik Backman is a popular Swedish blogger, and this is his second novel. He tells a difficult story with great care, weaving the present story with Ove's history, explaining how he became who he is today: stubborn, mistrustful, Saab-loving and absolutely sure that he is right.
Ove doesn't wear a fancy outfit but is a kind of anti-superhero, grumpily rescuing people on a regular basis, reuniting fathers and sons, enabling romance to blossom, and providing the means for others to grow and fulfil their dreams.
Perhaps the secret of this book's success—it has been a word-of-mouth best seller across Europe—is that it is about ordinary people learning how to live together in community. It has themes of reconciliation and redemption, and recognition of the importance of good old-fashioned character.
This is an irresistible read, and I warmly recommend it. Just like the movie Amelie, this quirky story will win your heart and make you smile.
Kara Martin is the Associate Dean of the Marketplace Institute, Ridley Melbourne, and is an avid reader and book group attendee. Kara is Eternity's resident book reviewer.
Email This Story
Why not send this to a friend?