A youth spent trawling Christian bookshops for decent kids music has left me with certain scars. Picture it please, in an age before the Internet, when the holy grail of music shopping was someone forgetting to shrink-wrap the CD so you could actually read the lyrics before purchase. Hear the domino-like tapping of plastic as I rifled through music bins! Mourn for the mountainous pile discarded after the first listen, now convalescing quietly in a garage. If I have learned anything from this quest, it is that producing catchy, faithful Christian music for kids is much more difficult than it sounds.
So imagine my delight to be sent the new Sovereign Grace CD The Ology: Ancient truths ever new, which aims to "fill young minds and hearts with eternal truths from God's Word." It's obvious how carefully these songs have been crafted to tackle one doctrine each, including the character of God, promises, sin, adoption and sanctification. There is a lot of good news here.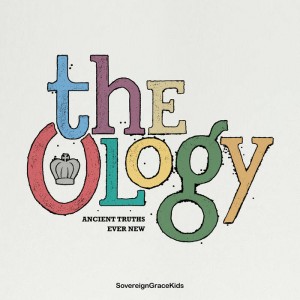 These are songs that don't speak down to kids or assume their response. Most of them pack a theological punch by being about God, rather than addressed to him, which makes them perfect for teaching and evangelistic purposes. Production values are high, from the country feel of "God always keeps his Promises," to the swing vibe of "God's Great Family," and the poptastic "All about Jesus." I'm also grateful for the creativity of the songwriters who are seeking to convey precious truths in a relatable way, particularly when they venture outside of the norm to teach about the church ("Brick after Brick"), the Holy Spirit ("Our Help") and anthropology ("Just the way God wanted us to be").
If you're looking for an album for your home or car which kids will love and learn from, I can't recommend this highly enough.
But what if you're looking for songs to sing in large groups? I humbly defer to my two cardinal rules for kids music: catchy does not necessarily equal singable, and sometimes, the better the singer, the less singable the track.
Take "the Scariest Song" for example. It's a spooky-sounding warning against the dangers of sin which makes for great listening and would be fantastic as part of an Andrew Lloyd Webber-esque musical, but I'm not convinced the accented speak-singing will fly with a group of kids. Similarly, "All about Jesus" has an infectious chorus and I couldn't be more excited about its biblical theological overtones, but the (admittedly fabulous) rap section is surely too fast for a group to sing and too long to spend the time mugging with your gangsta moves (which doesn't mean you shouldn't try!)
It's a similar story with my favourite song, "God Always Keeps his Promises," and songs like "Totally God, Totally Man," "Our Help," and "One Step at a Time". The soaring vocals are stunning in each case, but I can't help thinking a group of kids (not to mention their fearless leaders) would get lost trying to emulate them. This means that from an album I genuinely love (and which I think would make an awesome musical!), there are only a handful of tracks which will translate to my kids ministry contexts.
Bottom line: these songs are faithful and catchy and come highly recommended if you have kids in your life. Just be warned that if you're an enthusiastic but not particularly musically gifted kids ministry person (Hi! Let's be friends!), it won't do all the work for you. Happy hitting the high notes!
Laura Graham is a student at Moore College who loves sharing the good news of Jesus with kids. Her ideal week involves brunch, books, friends, large dogs and church in Clovelly.

Email This Story
Why not send this to a friend?