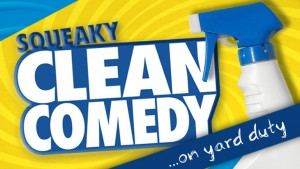 The Melbourne Comedy Festival: that time of year funny-makers from around the world descend on a city that loves dark humour, dark laneways and pale ale. But in amongst the smutty jokes, coarse language and abandonment of all political correctness, there is one show that defies the rest: Squeaky Clean Comedy is out to prove that you can be clean and funny.
Put on by Candlelight Productions, a production company founded by Christians to be a light in the performing arts industry, Squeaky Clean began in 2008 when Eugene Wong, Executive Director of Candlelight was given a challenge by his tech manager at the time.
"He said, 'I bet you can't do a show that's aimed at adults, but it's clean, but also funny.' And so being suckers for punishment we decided at very short notice that we were going to do a show."
It wasn't officially part of the Melbourne Comedy Festival, but the audience loved it. Candlelight were pleased, but didn't take the show forward until in 2011, when the idea was resurrected as part of an ambitious plan to make an impact on the Festival. As Eugene explains, they had to be strategic.
"The question before us was: if we want to make an impact on the Festival, how could we do that most effectively? There's no point performing in some little church hall, because no one is going to pay any attention to it. So we figured the way to get attention was to do it in a prestigious-sounding, big venue in the heart of Comedy Festival territory. So Melbourne City Conference Centre it was—a 700 seat auditorium."
They were blown away by great reviews and sold out audiences, even having to turn people away at the door. Squeaky Clean was making a statement.
At the same time, World Vision came on board, and Squeaky Clean incorporated awareness-raising into their routine.
Now in its fourth year as part of the Melbourne Comedy Festival, Squeaky Clean will this year put the spotlight on Indigenous education. The issue will run right through the two-hour variety show, from ushers and performers dressed in custom-made school uniforms, to the theme 'Squeaky Clean on Yard Duty'.
Offering a mixed bag of stand-up comedy, physical comedy and ventriloquism, the show offers G-rated laughs which are as funny, if not funnier, than other shows on the circuit. An interesting aspect of the show is the mix of Christian and non-Christian performers, something distinctive about all Candlelight productions.
"Part of the process of doing this as a ministry is that we mingle with non-Christian performers as well as a Christians. For us, when you're trying to have an impact on an entire industry, you can't do it in a bubble. You actually have to network and be known among the industry."
And as for avoiding the reputation of the comedy festival wowsers, Eugene says it's all about pursuing excellence in their craft.
"We spend a lot of time investing in our relationships with the artists, and do things like having all our volunteers in costume and having pay-as-you feel food, and bonuses for the audience they didn't know they were going to get. That's the sort of stuff that we do regularly. We want people to think: there's something special here."
Squeaky Clean will run across three Saturday nights, starting this weekend at the Melbourne City Conference Centre. Book tickets here.