"It's the simple joys," says Chewbacca Mom Candace Payne who's become an overnight internet sensation with a Facebook Live video racking up close to 150 million views.
It's the most-viewed Facebook Live video ever and even if you're a viral video sceptic, the whole thing has been worth it if only to watch the hundreds of news anchors attempt to recreate that Chewbacca roar.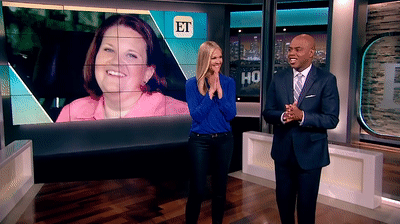 "I think the world as a whole, is in need of a good laugh," she told Good Morning America, as part of a hard-to-be-believed three-day, three-city tour flying from Texas to Hollywood to be interviewed by GMA, Entertainment Tonight and The Late Late Show with James Cordon. The 37-year-old mother of two also visited the Facebook Headquarters to meet Mark Zuckerberg and met up with Star Wars The Force Awakens director J.J. Abrams at LucasFilms Studios.
"I think we're in need of somebody to lift our spirits, to not take ourselves too seriously and to break some cynicism — worldwide," she said.
Two days after her Facebook video went viral (the count was at about 110 million views), Candace spoke at an Assemblies of God North Texas youth event for arts students called Regional Fine Arts 2016. Organisers invited her last minute to talk about what the interviewer called her "spotlight for what God is doing through you."
On a morning where she'd already been interviewed for Good Morning America, National Public Radio, BBC News and Buzzfeed, she made the time to tell them this:
"When I was 16 I had a vision from the Lord about my future being used for his glory. I didn't understand the interpretation of it. I still, to this day, at 37 years old, try to figure that dream out. But that dream has never left my heart, nor my mind, nor the way I walk and follow Jesus.
"It doesn't matter how talented, how anointed, how gifted, how passionate or how willing you are, if you're not fit to do the things that God is calling you to do. And that is spiritually fit.
"The thing that will take you further and farther in the Kingdom of God is three things: Diligence. Be diligent in the work of the Lord. Patience: have those moments where you stop and you wait upon the Lord. Don't rush into ministry or a good opportunity because it looks shiny. Wait for the voice of God to direct you. And then the third thing: the biggest thing if I could get to my 16 year old self, is have obedience. When he tells you 'move', move. When he tells you 'stop', stop. When he tells you 'indulge in the delights of my table', indulge but when he tells 'that's not yours, you can't have it', step away.
"Do not try to make a name for yourself. His name will always outshadow yours."
Email This Story
Why not send this to a friend?