archive
Bible Society News
Bible Society overcomes decibels to talk with youth at Easterfest
While music – loud and pumping – was the main draw at Easterfest this past weekend, Bible Society Australia used the opportunity to talk with young people about issues of faith and life. Given the music and the 35,000 turnout at the event in Toowoomba, talking was quite a feat, but many welcomed the opportunity to discuss contemporary subjects from a Biblical perspective.
"Overwhelmingly, young people told us they were glad to have this aspect present in this year's Easterfest programme," reports Mark Owen, the Bible Society's National Manager for Children, Youth and Education. "They said it gave them a chance to discuss today's important issues, over and above just attending a music festival."
In a "Bible Society space" within the Entry Pavilion, there was:
• a "Leaders' Lounge" for youth leaders to connect with one another and with young people they'd taken to Easterfest;
• a stand where the Bible Society's "GodSpeak Advocates" engaged with other young Australians keen on advocating for a Bible Society project, and raising funds for the mission field; and
• The Forum where 28 invited Christian speakers from across the country interacted with groups of 60-200 people, discussing issues that are relevant to Australians today, and what the Bible has to say about these issues.
This was the second year that the Bible Society had presented The Forum. David Wilson of the Bible Society's Sophia Think Tank facilitated six sessions, all done Q&A style. There were two sessions on Christians in Politics with Fiona Simpson (QLD State MP and Speaker of the House) and Lyle Shelton, and other sessions on Sex, Abortion and Human trafficking, as well as Child well-being in Australia.
Justine Toh of the Centre for Public Christianity (CPX) presented three sessions. She spoke about makeover culture today that encourages us to create ourselves and transform our bodies after our own desires; our attachment to handheld devices and how to rest in spite of a continual online presence; and contemporary sexual individualism where sex is primarily self-centred and self- pleasuring.
"I was most struck by the questions and responses that came after the sex discussion," says Toh. "I had a young woman in her 20s who told me she'd been sleeping with her boyfriend, and wanted to know how she should manage that situation. Both she and her boyfriend wanted to do the right thing, but they obviously didn't feel like they got sufficient support to not have sex with each other."
Then there were other young girls who wanted to know where the line was – what they could get away with sexually with their boyfriends. "I think we're failing the next generation of Christians if we don't have frank and open discussions about sex and what it looks like from God's perspective."
The young GodSpeak Advocates manning their stand also reported interesting questions about the Bible Society – its purpose, what a Bible costs overseas, and why the Bible Society had projects in particular countries of need.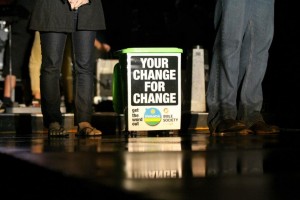 Overall, being at Easterfest was an opportunity for the Bible Society to connect with young people of faith, and to share with them the great need to continue the work of sending the Bible into all the world, in the hope that one day – when they are ready – they will take up the baton from faithful generations before them.