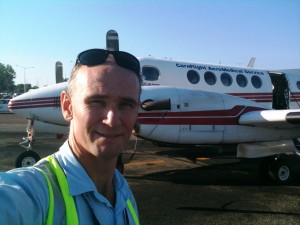 I've been a Christian since I was a boy; my mum raised me to be a Christian. I made a personal commitment to God when I was around nine or ten years old. I got more serious about my faith about ten years ago.
I realised that my faith had to be real rather than theoretical. I went through a marriage breakdown and turned to the Lord and His Word. I started reading the Bible all the time – sometimes 18 hours a day – and learnt an enormous amount. I grew in my faith and in my knowledge.
I spent 23 years as an air force pilot. My main areas of operation were New Guinea and all around northern Australia, Torres Straight and Timor. My main operational aircraft was the Caribou which I flew out of Townsville. I also spent seven years as a flying instructor and I was also in charge of a big project to replace the Caribou aircraft.
Of all the jobs I did during my air force days, my favourite tasks were working with the Special Air Service, formation flying, flying with night vision goggles and instructing.
After working in the air force for so long, I wanted some stability in my life; I didn't want to be moving around all the time, and wanted to make friends in one place. I was also hoping to continue serving the community with my flying skills.
I began working with Careflight (a company like the Royal Flying Doctor Service) in May 2010. We're based in Darwin and cover the top half of the Northern Territory. My role is to train all the pilots who come into the company and fly the line when needed. When there's new guy, I teach him our twin engine King Air and our operations. Once new guys are online as pilots I also fly with them periodically to check their skills (every six months I give them a proficiency test and every twelve months an instrument rating test). I fly by myself to keep my skills up as well as taking the other guys to train them.
It's very rewarding to pick up people that urgently need medical help: heart attack victims, psych patients, people with broken legs, spinal injuries, people from car rollovers and other really crook people who need high speed transport.
One of my favourite passages in the Bible is Isaiah 40:30-31 which says, "Even the youths shall faint and be weary, and the young men shall utterly fall: But they that wait upon the LORD shall renew their strength; they shall mount up with wings as eagles; they shall run, and not be weary; and they shall walk, and not faint." I like how this verse has a bit of aviation in it – we 'rise on wings like eagles', but it's also true of how God helps us in life. It's always been a favourite of mine.
In aviation, an aircraft captain is in charge of the aeroplane as it flies; he's the guy in the left hand seat of a Qantas plane. He's responsible for the safe and efficient completion of the flight. He makes command decisions, diverts aircraft if there's bad weather ahead. He encourages and mentors the co-pilots, training them up to be pilots on their own. He keeps everyone down the back safe, and takes them to their destination.
I've come to realise that God is the best aircraft captain that there is.
David's testimony appears in 'The Flyer's Bible: Gospel of Mark', which has been specially published for handout by Bible Society at the Avalon Air Show in Victoria in early March.
Email This Story
Why not send this to a friend?